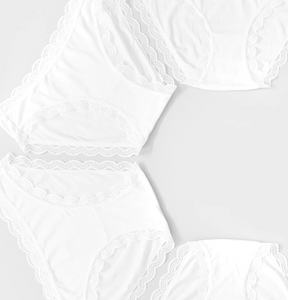 Stripe & Stare White Four Pack Knicker Box
Regular price $54.00 Sale
Everyday essential basics white knicker box.
We believe it's what's underneath the counts. 
Designed by women for women. Kind to the planet, kind to you. No unsightly lines. No riding up. Soft. Breathable. Feminine & empowering.  
Super-soft, sustainable and oh-so comfortable! 
95% TENCEL™ Micro Modal, 5% Elastane.
They arrive in a beautiful gift box - the ideal present but even better when it is a present for yourself.
Who knew knickers could be so important? And yet, if you think about it, you wear them everyday. And everyday counts. So we've put a lot of thought into our knickers precisely so that you don't have to. 
 Described by our fans as the 'World's Most Comfortable knickers'
 Ingenious flatlock stitching means no VPL
 No riding up
 Breathable
 Super-soft modal fabric 
 100% sustainably sourced 
Sustainable. Empowering. So comfortable. Made by women for women.
95% TENCEL™ Micro Modal, 5% Elastane
As with all luxury fabrics, we recommend hand washing under warm water. If you choose to machine wash, please pop your knickers in a net bag on a cool 30 degree wash. 
No need to tumble dry. Dry flat. 
Please note with bright and neon dyes, there will be colour rub when new but with wash and wear the colour will fade subtly. To preserve the vibrancy we recommend hand washing bright colours in a cool wash.